"Bones And Love Bombs" – Paul Banks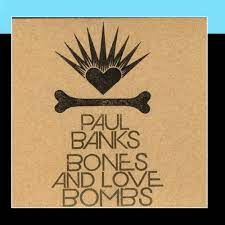 When Paul Banks – whom you can read about elsewhere on this site – got the offer to make a remix in LP-format of an old album from 2003, he just couldn't resist. He told he wasn't particular happy with the original mix of a couple of the tunes, so here was the opportunity to make things right. We are glad that he accepted the offer! But how can one find anything to criticize after two mixings? It just gotta come out perfect…. And so it did!
It's also good for all the people who didn't know Paul and his music in 2003, myself included. Here he presents a totally different side than the Paul we are used to, and love, from The Blues Jamboree and various duos in the blues format.
These eleven tunes are from his own pen and really exposes the great musical variety this American expat possesses. Often it goes towards jazz, lounge jazz, sometimes towards Nina Simone, sometimes towards Van Morrison, sometimes towards…. Paul Banks. These moods are greatly supported by the horn section; Jakob Dinesen on tenor saxophone, Mads Hyhne on trombone and Kasper Tranberg on trumpet, not forgetting the rhythm section with Fredrik Damsgaard on bass, Kresten Osgood on drums and a lampshade (!) and Rune Olesen on congas, guiro, shaker and tambourine. Assisting Paul Banks on the guitar is Aske Jacoby as well as Gustav Ljunggren on mandocello, violin and guitar.
The first song "Meet the Folks" is laid back rhythmic piece that brings the listener a relaxed good mood.
The second one, "Hannah" is obviously about his girlfriend (she appears in the first song as well). It starts out in the same cool way but then suddenly there's a dramatic change in the soundscape that makes one thing of Van Morrison.
Third song "Rattle Your Bones" is a very rhythmic thing that brings thought to Dr. John, not just in the music but in the lyrics as well.
No 4 is a quite cynical text on "When Denmark Won The War". The content reminds me of the Irish folk song "The Irish Navy" but the groove of the music reminds one of Nina Simone.
No 5 "Looking In My Baby's Smile" is a sweet tune and no 6 "I'm Disappearing" is typical Banksy. This is how I know him.
No 7, the beautiful but melancholic "Ocean Liner" tells of two children traveling across the ocean in big storm, but it's unclear if the they ever reach their destination.
No 8 is slow bluesy jazz in a smokey midnight bar in Copenhagen and is also called "Copenhagen Moan".
No 9 "Rain On Bear Mountain" is an intense folksy blues telling a tale of, I guess, Paul Banks own background.
No 10 "Lao Tse And The Book Of Ecclesiastes" starts out with a fateful mood but suddenly explodes into a funky piece with driving horns. The final song, "When I Take The Floor" ends of this session appropriately in a humble way that reveals the mind of Paul Banks.
For those who haven't got a vinyl record player it's available on Spotify as well.